The Enabot EBO Air robot is a helpful little companion that can be used in a multitude of ways, but it's primarily designed and fitted with features to keep a close eye on your pet when you're away, making it a top candidate as one of the best pet cameras that money can buy, or even as an indoor security camera.
EBO is able to patrol your home, spy on your family, and find your pet all by itself at any time of the day that you schedule it to, provided that it is connected to Wifi and charged up. But, EBO also has remote control features that allow you to take the wheel yourself and navigate the robot camera around your home from the work office to interact and play with your pet, no matter how many miles away you are.
Priced at $229 / £179.99 / AU$369.99 this robot pet toy camera certainly isn't the cheapest, but the features it offers do justify the price in our opinion, and the camera quality is actually superb in comparison to other pet and security cameras on the market. The integrated app is also excellent at managing media clips captured using EBO and can be easily saved and shared with loved ones.
You'll soon grow to love EBO's adorable little voice (yes, it talks!) and cries for help as it gets stuck behind your radiator or takes a paw to the face of a pet who wants to play with it. "Ow, EBO!" is a phrase that it says most commonly when in times of struggle, otherwise you'll hear the occasional "oooo" sound from it when you're at home and it decides to go for a wonder.
The EBO Air can even auto-navigate itself back to its charger when the battery level falls, without any prior instruction or prompting. It will say "I'm going home to charge" in its much cuter Wall-E-reminiscent voice, and then make its way to the charging station and after multiple failed attempts, eventually reverse itself back into the slot on the charger and remain there until it's time for a new patrol.
We'll go into more detail about what the EBO Air is capable of in the key features section of this review, for sample images and video footage from this adorable AI camera then skip to the Performance section of this review using the tabs above.
EBO AIR: SPECIFICATIONS
Release Date: March 22, 2022
Camera Quality: 1080p at 30fps with CMOS Sensor
Field of View: 118 degrees
Resolution: 1080p
Capacity: Supports up to 256GB (includes 32GB MicroSD card)
Dimensions: 9.6 x 9.6 x 8.9 cm
Weight: 310 grams
Charger: Charging stand - 5V at 2A max
Battery: 2500mAh, 3.7V
Inertial Measurement Unit (IMU): 9-axis
Real-time transmission: 480p@30fps
Speed: 1M/S
CPU: Dual ARM A7@1GHz
What's in the box?: The EBO Air device, Charging Station and plug, User Manual, MicroSD card (in the device), Silicone pet colored feathers.
EBO AIR: KEY FEATURES
As we mentioned above, the Enabot EBO Air is primarily intended for use as a home security patrol camera, with features designed specifically for pet tracking and interaction. This little Pokemon-looking device will quickly become the latest addition to your family, and part of your daily routine in checking on your home while out shopping or when working from the office, offering full house mobile monitoring.
EBO is fitted with a near-silent brushless motor that when used on carpet barely makes a sound, and the two-way communication offers real-time audio transmission so that you can talk to your pet or family in the household through the app by pressing the microphone button, and also hear what's happening in the room.
The integrated EBO app is pretty much the only way to control and maintain the device, but it does offer a nice fun interface that allows you to customize each aspect of the EBO Air setup and functionality, change the custom tasks list, and select a mode to operate in such as Pet mode or random.
Image 1 of 7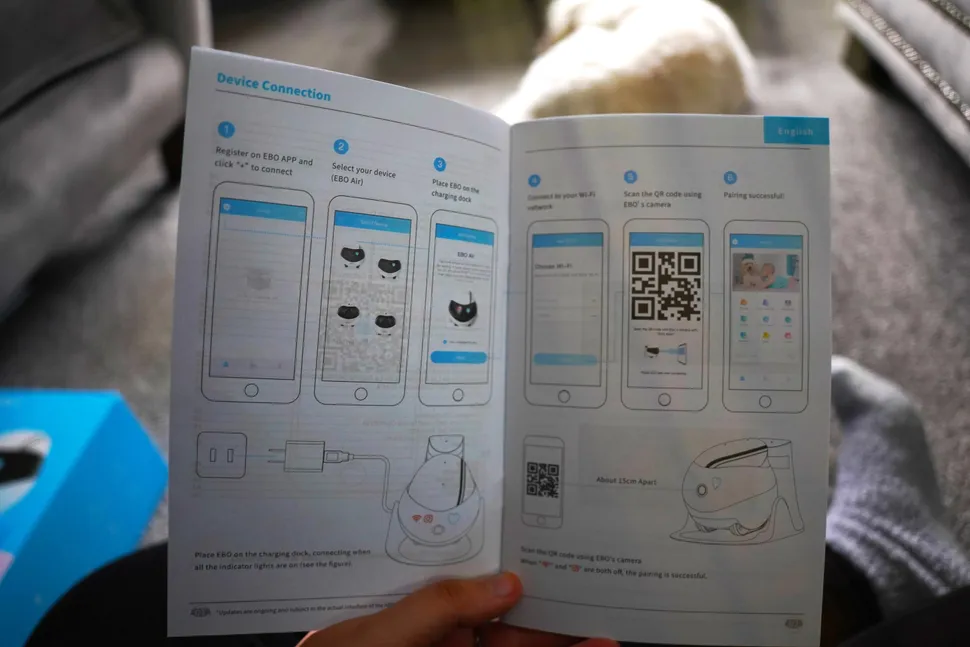 The EBO Air is just as fun to control when home, as well as when away from your home, and the device can be programmed through the app to set reminders that EBO can announce to you such as to drink water or not to miss an important meeting. It can also perform assorted tricks at the tap of a button such as spinning in a circle frantically and a sequence that the app calls its moonwalk, where the robot will roll forwards and backwards.
The Enabot EBO Air is different from that of its sister device, the slightly less expensive EBO SE, in that it has AI features such as a pet tracking recognition and shooting function, as well as an infrared laser and Anti-drop features that can prevent the device from rolling off of any high surfaces, countertops, or even down the stairs.
The EBO Air has its own little personality, and is able to perform cool tricks when prompted, while using its laser function to entertain your cat or ferret, and will even learn over time using its AI to recognize and interact with familiar pets and faces in the home to determine who and what is not considered to be abnormal or a security threat to your household, with an 'Abnormal' video alarm and message push notification sent to your phone if it detects something off.
The night vision infrared camera is superb quality, and EBO's security features can allow it to be scheduled to cruise autonomously around your home at times that you choose during the day or night. However, it's worth noting that EBO has its own hours of operation that it calls its 'Activity Time' which are between the hours of 8 am to 12 pm, and then from 2 pm to 9 pm.