Ebo User Instructions
Thanks for your support! Should you have any questions or concerns, please feel free to email us at support@enabot.com.

Catalogue
You will need to download the Ebo App, initialize Ebo and configure the network. Please refer to the doc or video for pairing Ebo with your smart phone.
https://drive.google.com/file/d/1YOfIxf0QdvdvTEPAA_1CMg_XCHvRcrbp/view
https://www.youtube.com/watch?v=D6MkLmfxbw0
After unboxing and pairing Ebo, you are highly recommended to upgrade the firmware immediately for better user experience. We are improving Ebo every day!
Please refer to the doc or video for upgrading the firmware.
https://drive.google.com/file/d/155-Y-YN3ocVSWJX8GSeJUX9C9HRLiWsG/view
https://www.youtube.com/watch?v=0bEJ1OPeppU&feature=youtu.be
When Ebo is connecting to Wi-Fi, recharging or moving towards different directions, etc. its eyes will change accordingly. Please refer to the video to get the meanings of Ebo's different eyes expressions:
https://www.youtube.com/watch?v=FADvN7QspJc&feature=youtu.be
Please check the following steps:
A. Make sure Ebo can only be connected to 2.4G Wi-Fi
B. Make sure that Both Ebo and your smart phone are connected to the same Wi-Fi
C. Make sure you are entering the correct Wi-Fi name and password
D. If none of them works, please follow the steps below to complete the pairing through the mobile hotspot:
a) Long press the reset pin for more than 5 seconds
b) Place Ebo on the dock for about 1 minute for complete reboot
c) Connect your smartphone to a hotspot of another phone
d) Type in the name and password of the hotspot
e) Scan the QR code
f) Check whether it is paired successfully
g) If it is paired succefully, please refer to the video to change the Wi-Fi to room Wi-Fi: https://youtu.be/BuOCZjWiG_I
If there are any problems with the above operations, please take a video about the problem and send to support@enabot.com for us to determine what went wrong.
There are 2 hats with laser pointer: the soldier hat and the onion hat. Put on either one. When you go into the control mode, there are 4 icons on the right-bottom corner of the screen. One of them is to turn on/off laser pointer.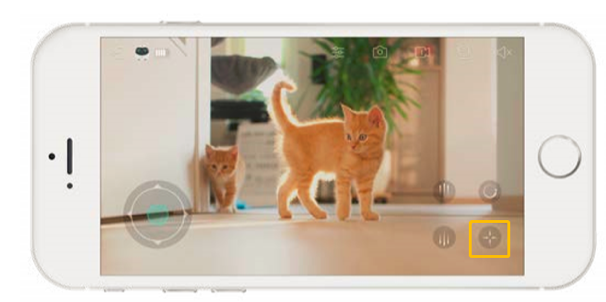 When you stop controlling Ebo for 1 minute and above, Ebo will start searching for the charging dock and then go back to recharge by itself. Please rest the charging dock against a relatively flat wall. Please refer to video for auto-return to dock.
Please short press the reset pin on the bottom twice with the needle we provided. However, the existing firmware version will still be activated after the Ebo is placed on the charging stand, and we will optimize this in future upgrades.
8. What is the difference between Ebo Pro and Standard?
The major difference between pro and standard is the facial recognition feature. Powered by more advanced processor, Ebo Pro has facial recognition technology. Therefore, Ebo pro could capture and record photos/videos automatically even while you are not on the APP. You can later download those photo and videos anytime. That's also the reason why we provide 32GB local storage capacity in Pro, while 16GB in Standard model.
9. Can Ebo recognize different faces of cats?
Data computing and storage are both happened locally since data security is of our highest priority. The computing power is therefore very limited without the help of cloud computing. Ebo Pro version is capable of facial recognition but not good at differentiate faces. Hopefully with the development of technology, Ebo will become better on differentiating faces later.
10. Is it possible to sync two phones on the same Ebo?
As the first step we selected the most secure way. Your Ebo and your phone are exclusively paired considering data security. Data security is of our highest priority as compared to data sharing. We will be working on supporting multiple users.
11. How long does it take to charge the Ebo battery?
Ebo Standard takes around 2 hours to fully charged while Pro version takes around 4 hours.