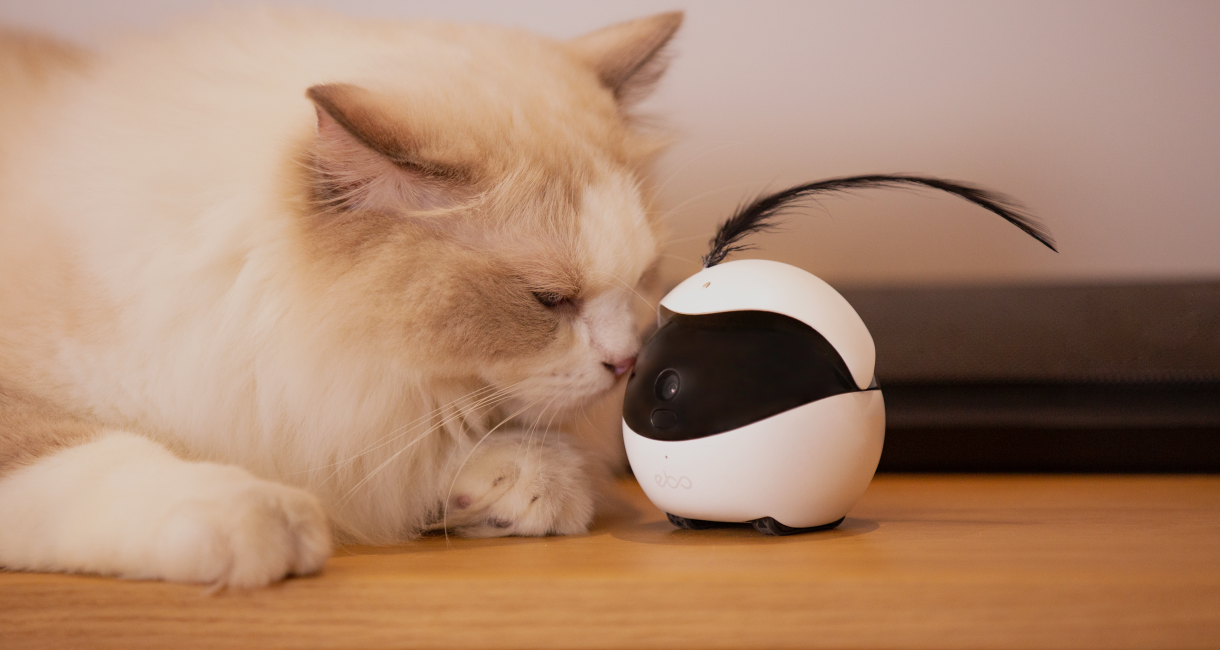 "EBO IS MOBILE, AUTONOMOUS, AND CAN LIVE_STREAM VIDEO TO YOUR PHONE."

"I've seen a LOT of so-called 'smart' cat toys on Kickstarter and Indiegogo over the years, but this might be the MOST ADVANCED one yet."

"This smart robot will become your cat's new BFF."

"Ebo is a new smart and connected robotic cat companion toy that allows you to stay connected to your pet remotely, wherever you may be in the world."
Cats need stimulation even when you're not at home
According to RSPCA, cats are one of the most neglected pets in today's society.
The effects of neglect can lead to more than just grumpiness. Without proper stimulation and socialization, cats can develop depression, obesity, and other major health problems.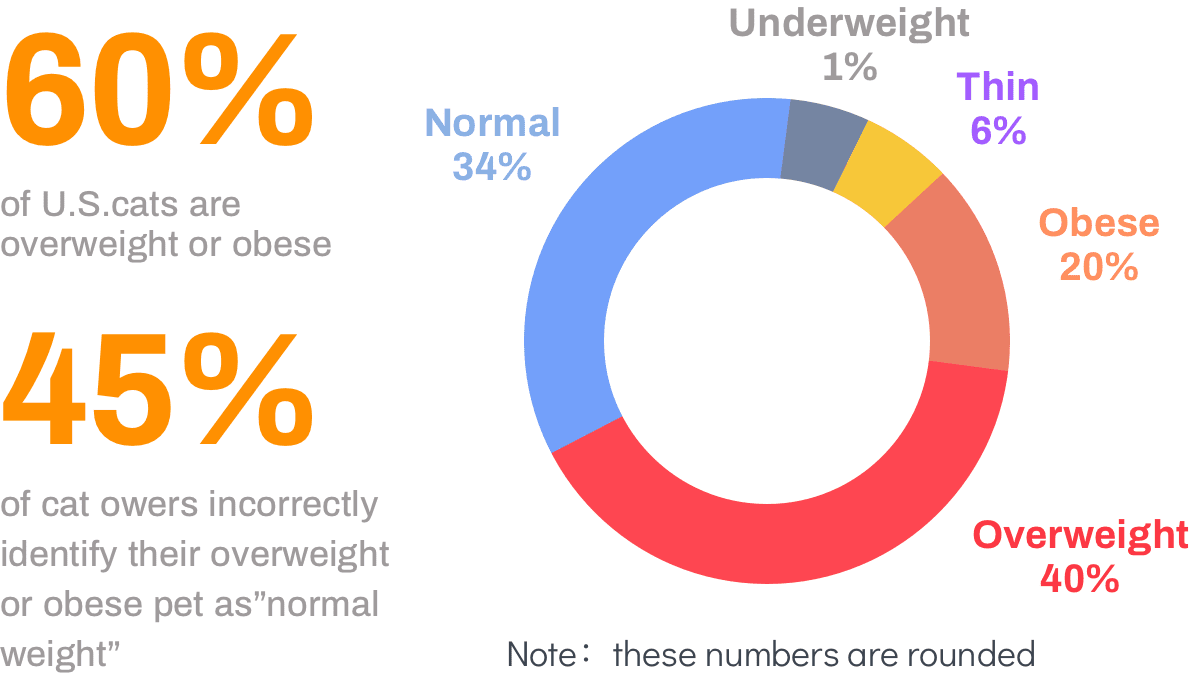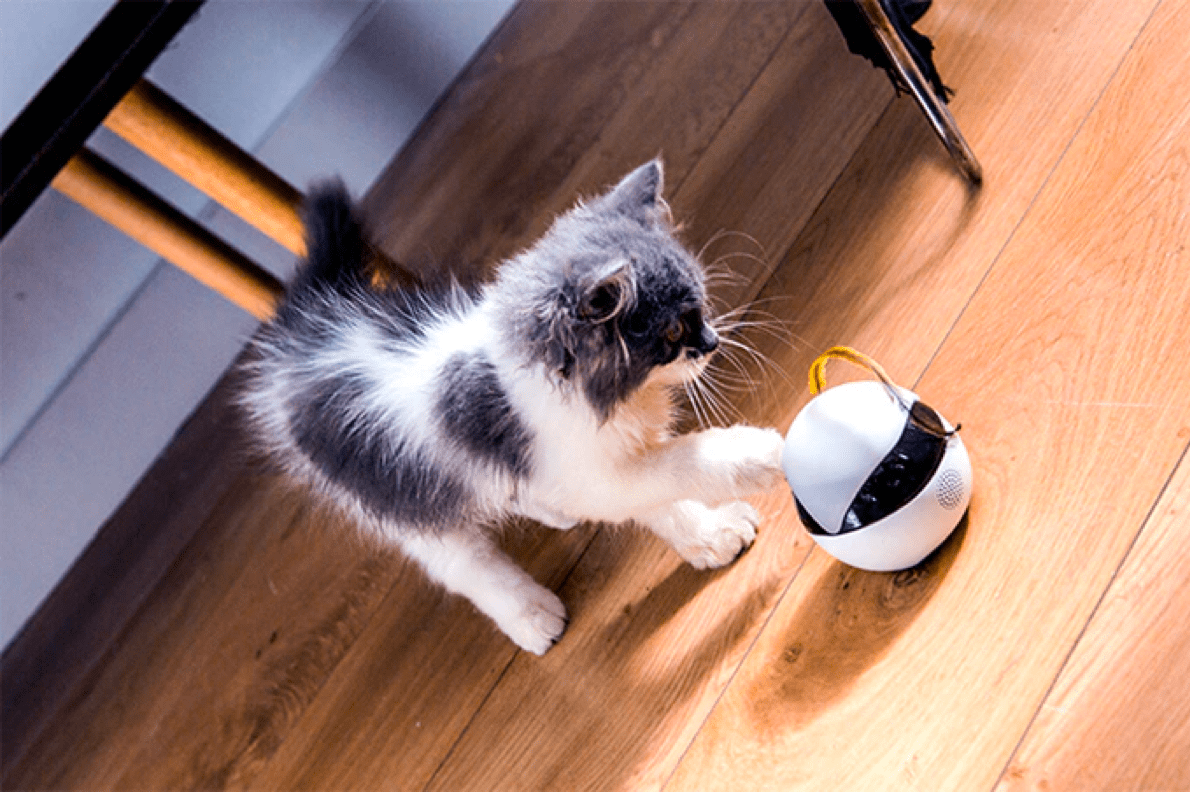 The good news is, it doesn't have to stay this way. We're here to help with Ebo - The smartest, life-like companion for your cat. Ebo creates a world of interaction, fun, stimulation, and connection that helps your cat to thrive and develop to achieve the best physical and mental health that they possibly can.
Main Features

Access Anywhere
Ebo connects to WiFi, allowing you to monitor you cat with HD video and sound on the mobile app.

Capture, Record and Play
Ebo is equipped with a 1080p HDcamera. Take photos, video or play with your cat via live stream.

Autonomous movements
Ebo wheels rolls and dances on its own and is equipped with collision sensors.

Real-life interaction
Ebo's eyes,movements,and sounds mimic real-life play keeping your cat engaged day after day.

Social sharing APP
The Ebo app comes with tons of editing and social features to help you share your fluffball with the world.

Self-Return to Charging Dock
Ebo auto matically returns to its dock when it needs charge. You don't have to do a thing.

Set a Schedule
Pre-set Ebo to wake up and go to sleep when it suits you best. Ebo works around your schedule (Released in March 2020).

Activity Tracking Collar
Monitor your cat's health metrics activity with Ebo activity tracker.

Present in Ebo Pro Artificial Intelligence
Present in Ebo Pro, AI algorthms detect your cat's mood and adapt to its unique play style and personality.
Love Across Time And Space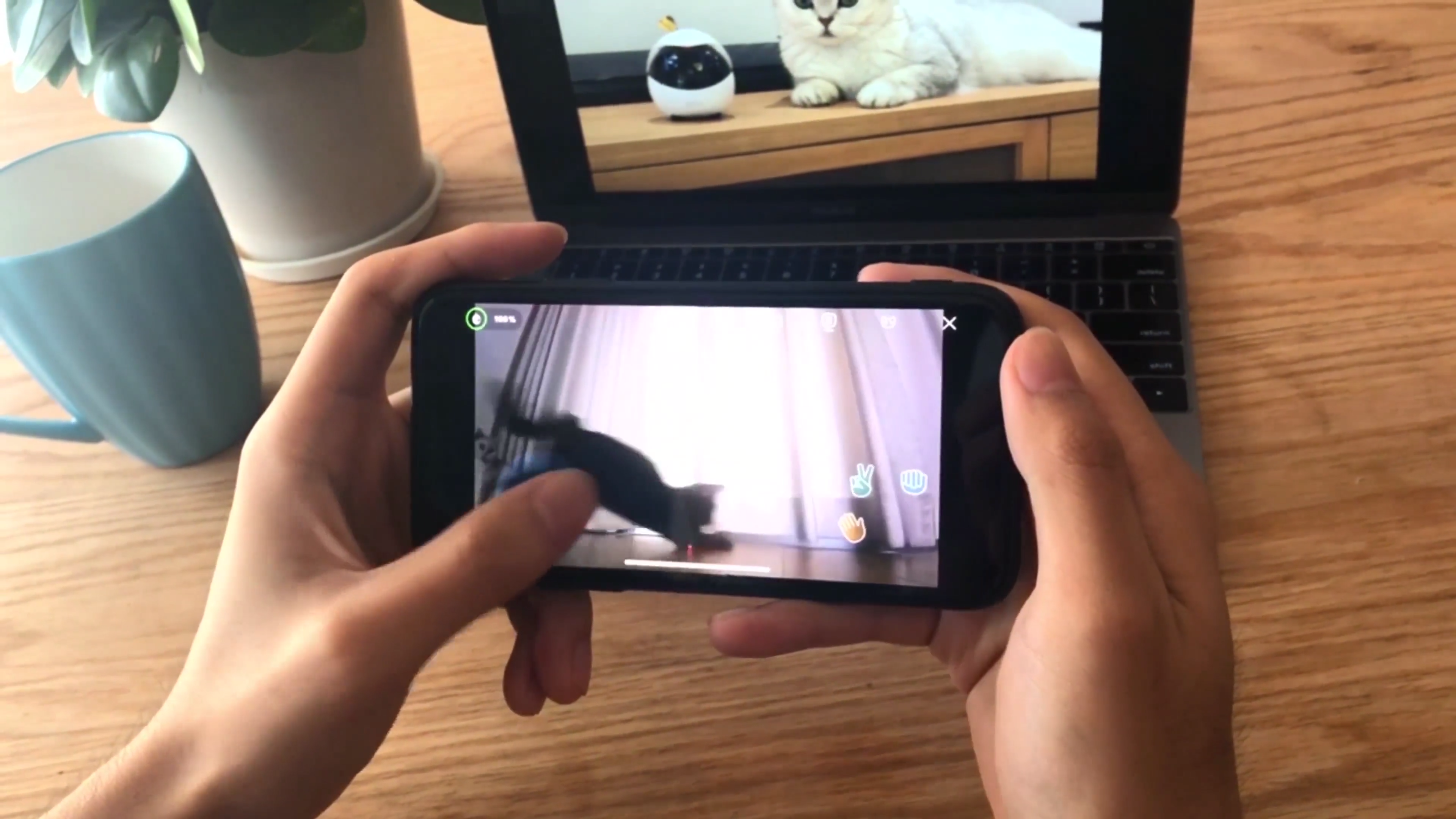 Two Way Communication
Pull out your phone to play, watch, record or snap pictures of your cat any instance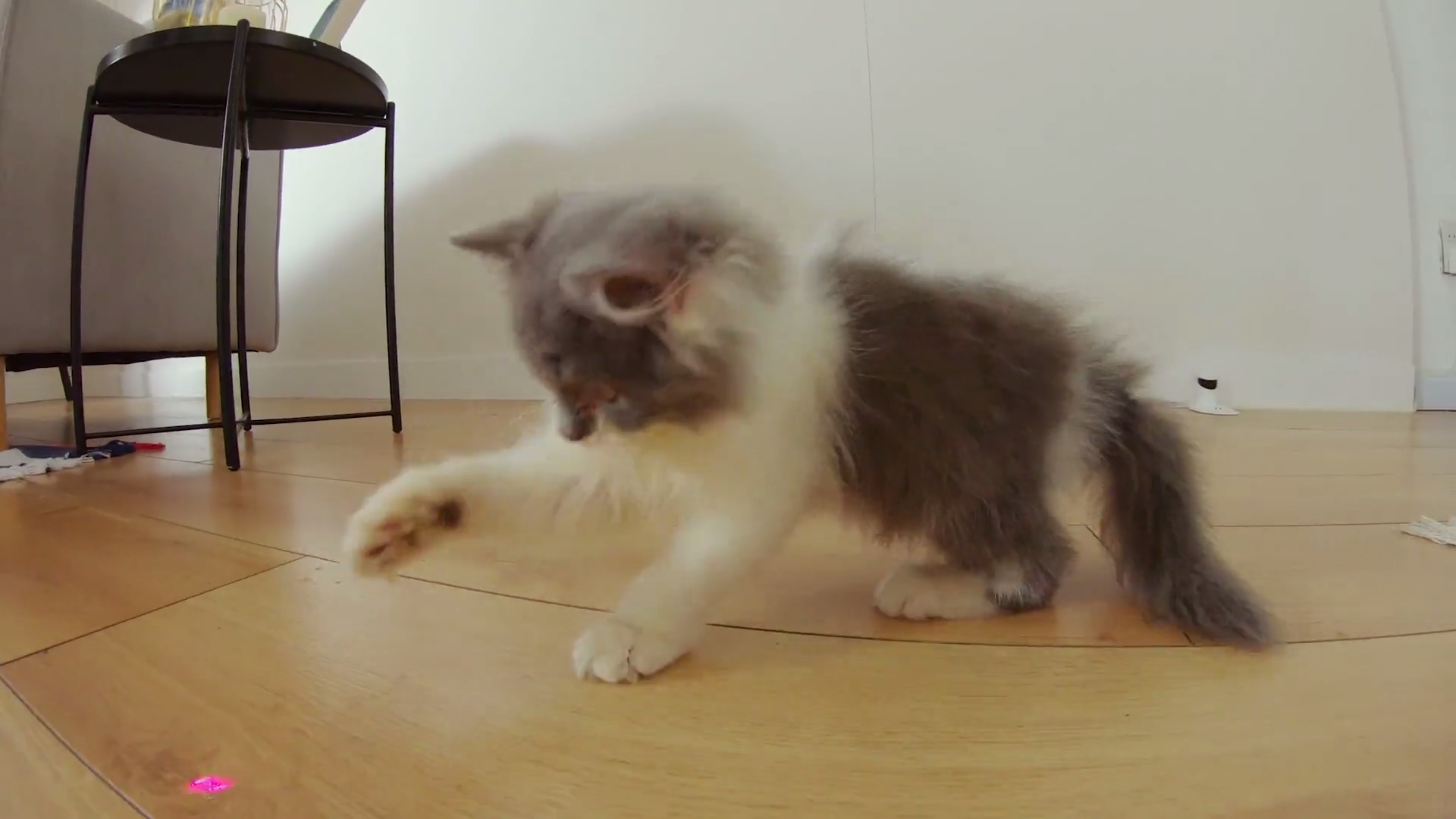 Capture, Record & Share
With Ebo, you'll be able to perfectly capture every moment. Create quirky and memorable content of your cat and share them with your friends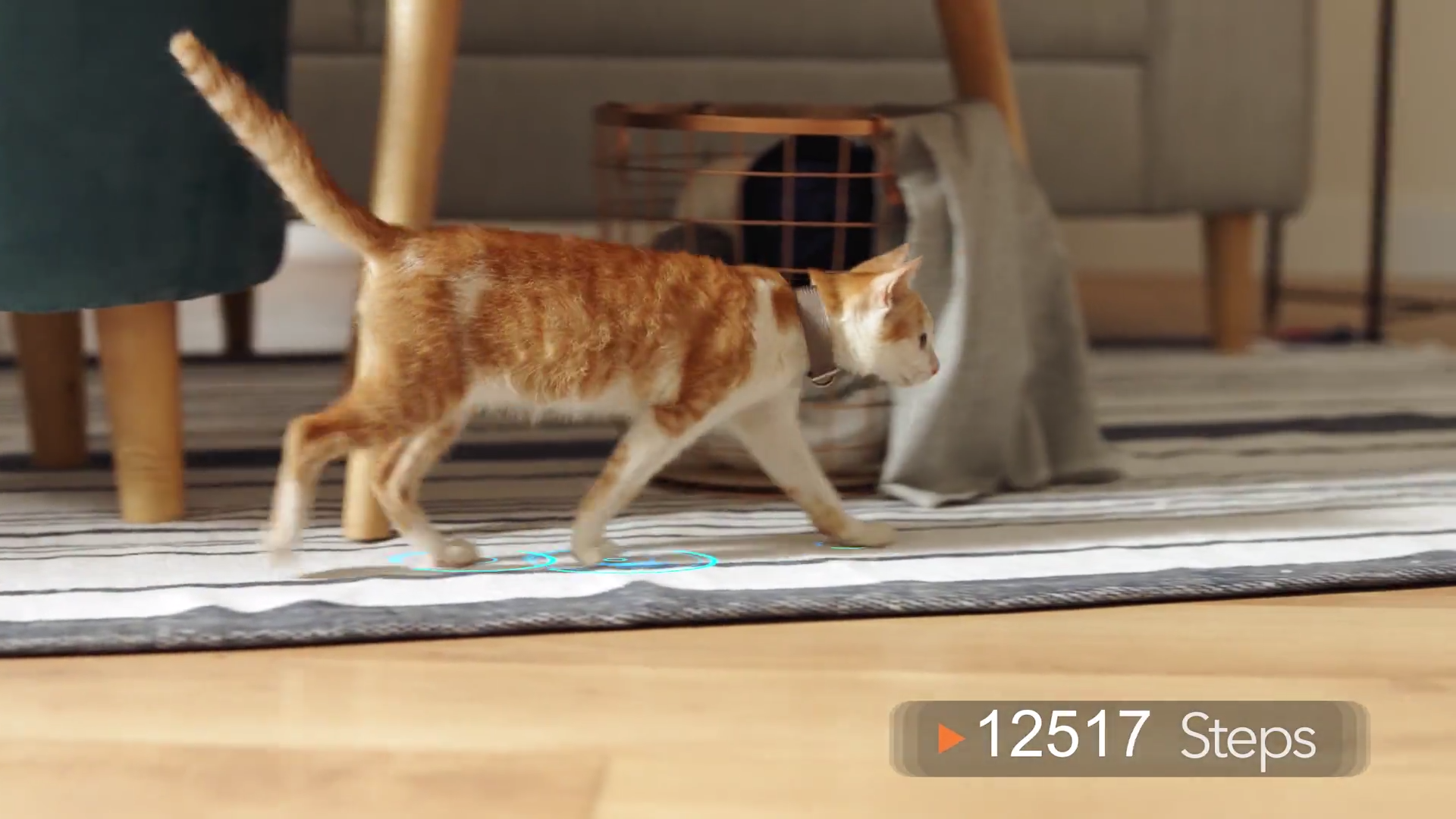 Personal Fitness Trainer
Ebo makes sure your cat is getting the daily dose of exercise they need
A fun, healthy, and safe full-time friend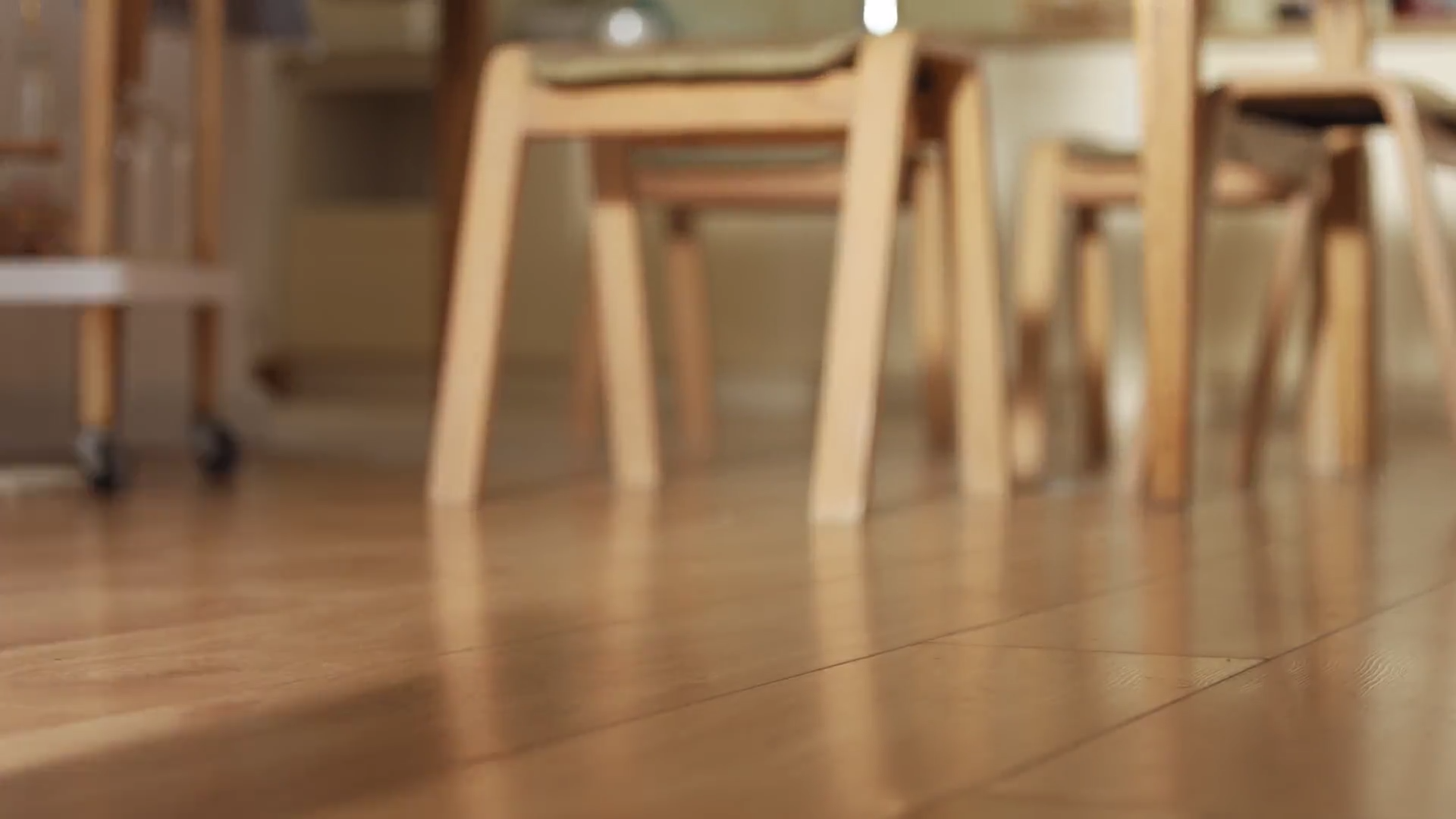 Autonomous Movements
Ebo is able to provide a creative exercise routine to help your cat maintain the ideal.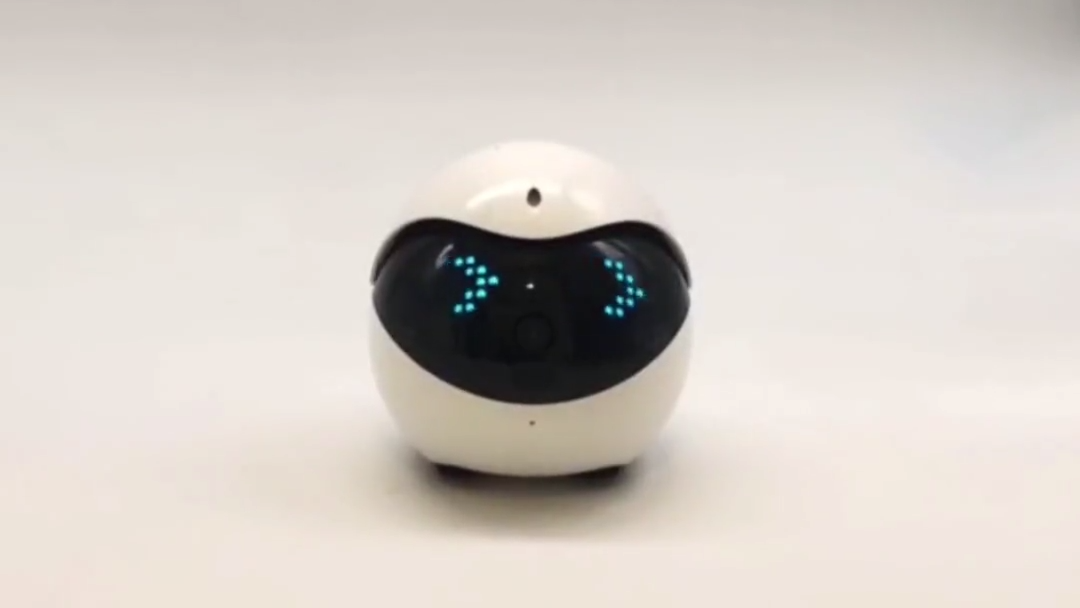 Mimic Real-life Interactions
Ebo interacts with cat like a living thing through a dyadic mix of sound,movement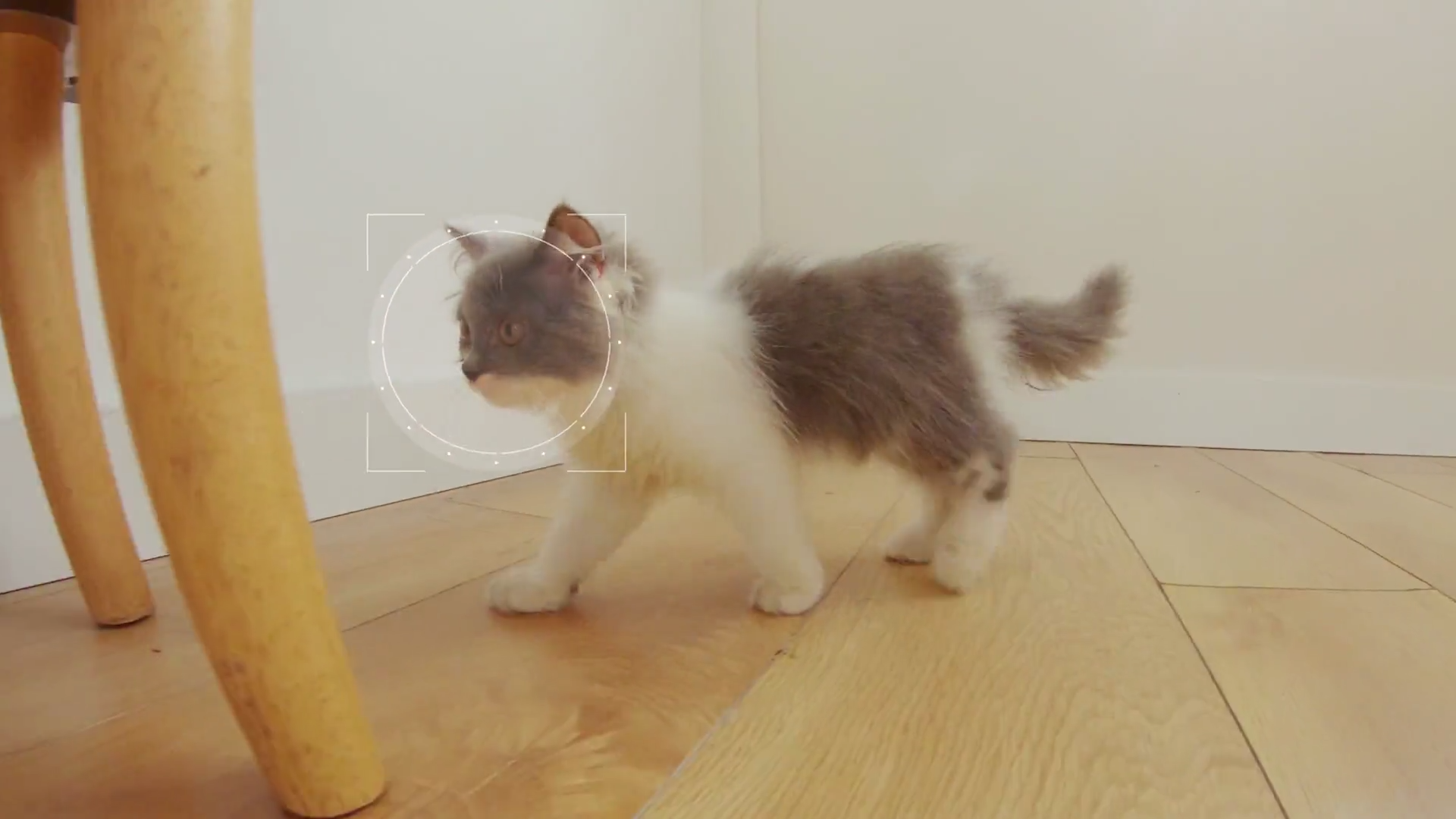 AI Tech(present in ebo pro)
Investing in a constantly-adapting, mentally-stimulating, and customizable smart AI companion means Ebo will be your cat's favorite playmate for years to come.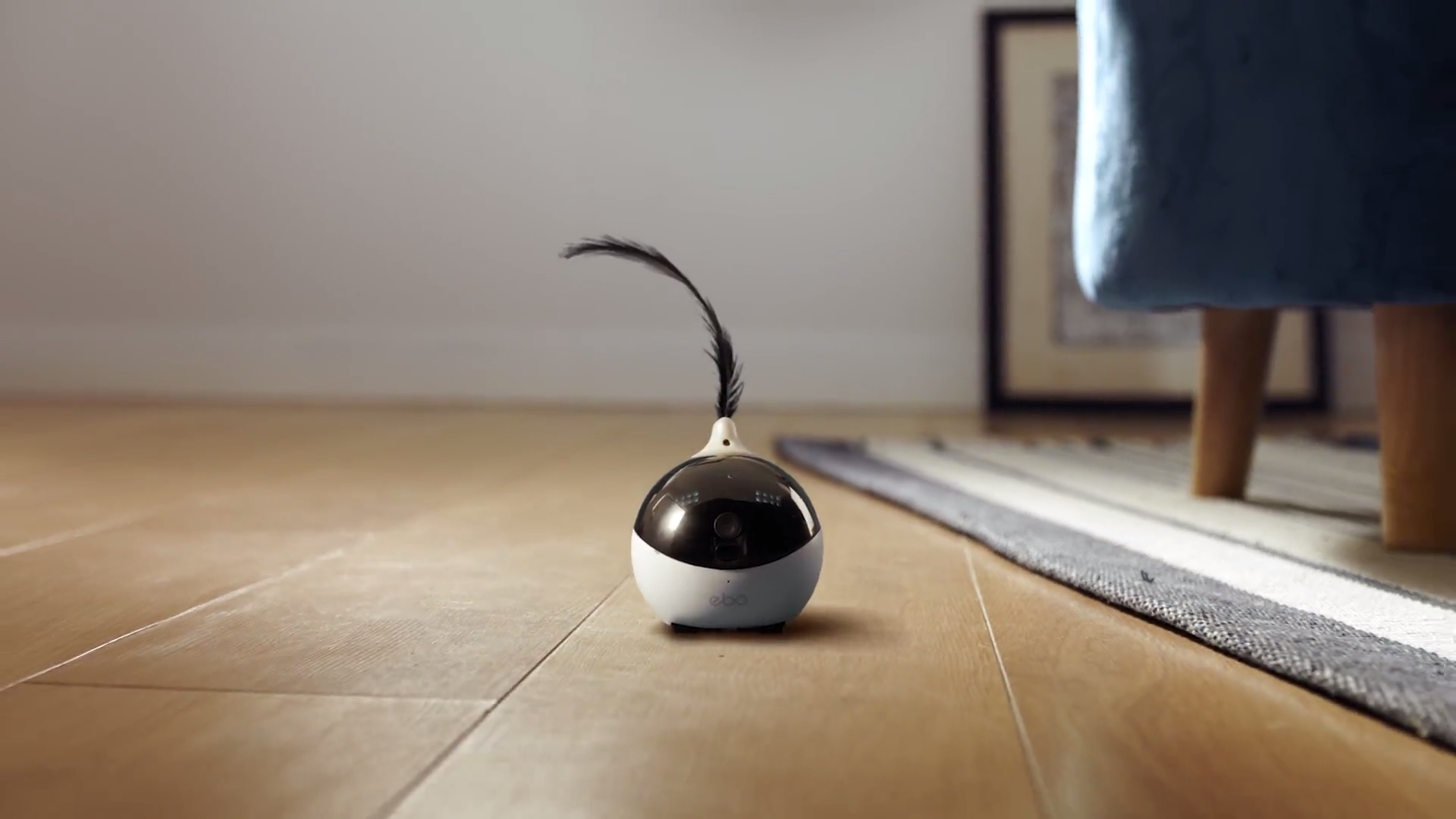 Interchangeable Accessories
Ebo's interchangeable accessories keep your cat endlessly entertained
Always Gives You Peace of Mind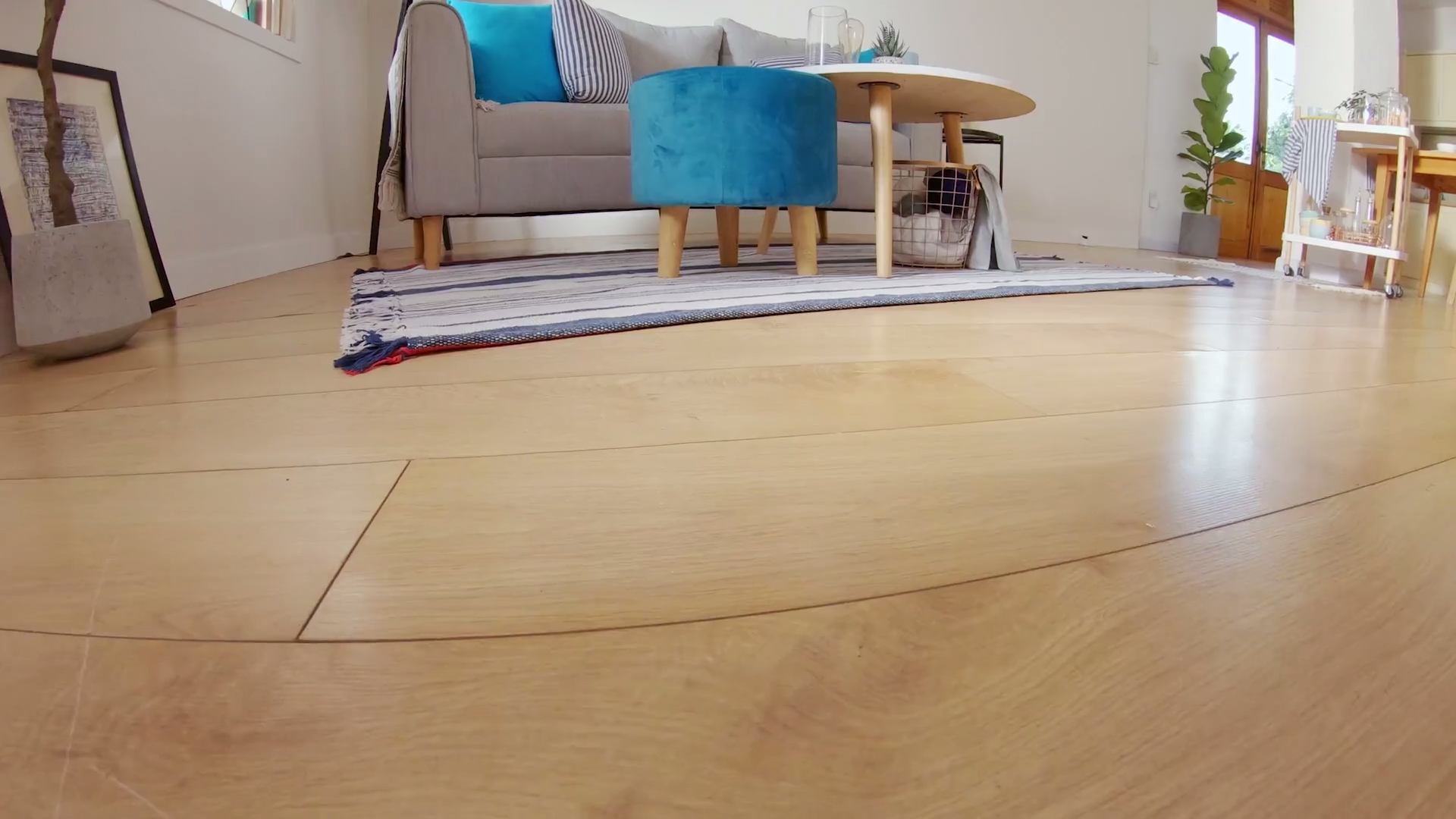 Automatic Obstacle Avoidance
Ebo changes direction automatically with its built-in collision sensor.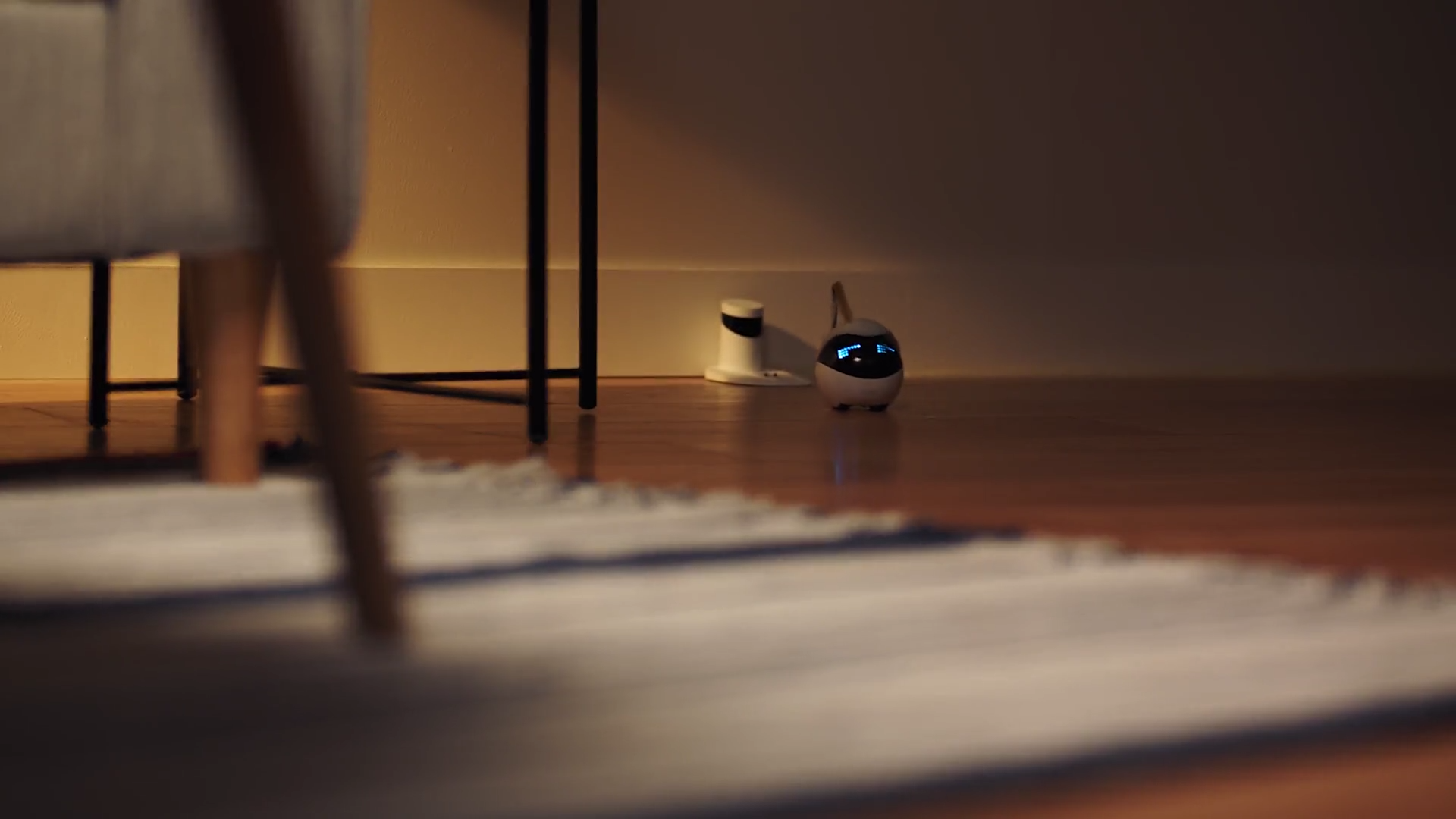 Self Return-To-Dock
When Ebo is running low on power, it will return to its dock and begin charging. Once you take Ebo out of the box, you'll never have to lift a finger again.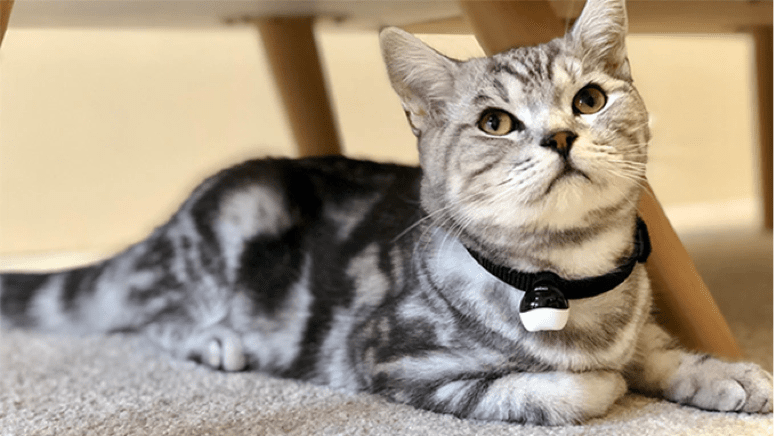 Smart collar
The smart collar is completely safe and non-toxic. In fact, it's one of the safest collars ever designed. If an unsafe amount of pressure is detected that puts your pet in danger, it will automatically loosen and come off.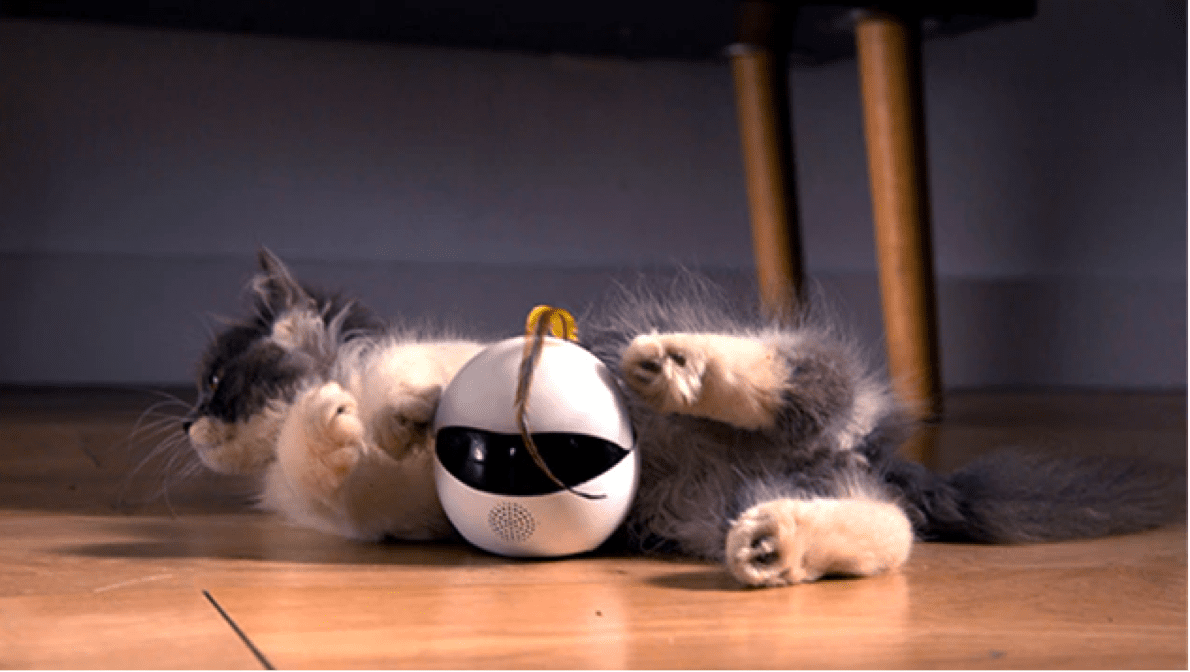 Data security
Ebo has no cloud storage. All data is local on your Ebo. All camera visuals are only livestreamed and the data is only stored if the users chooses to manual store it on their phone.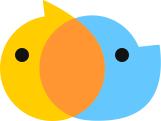 Ebo Mobile Friendly App
Download the Ebo App on your phone to interact with your cat any time!
Download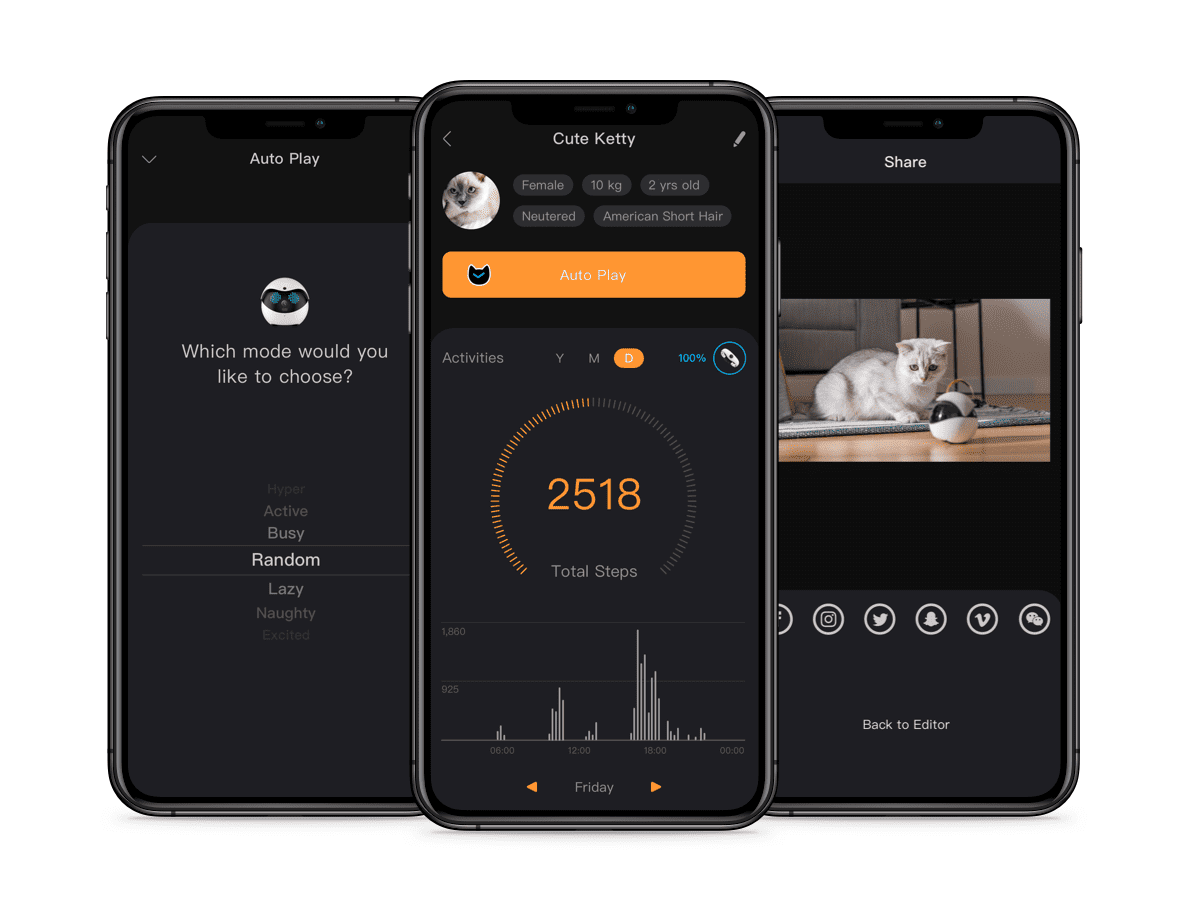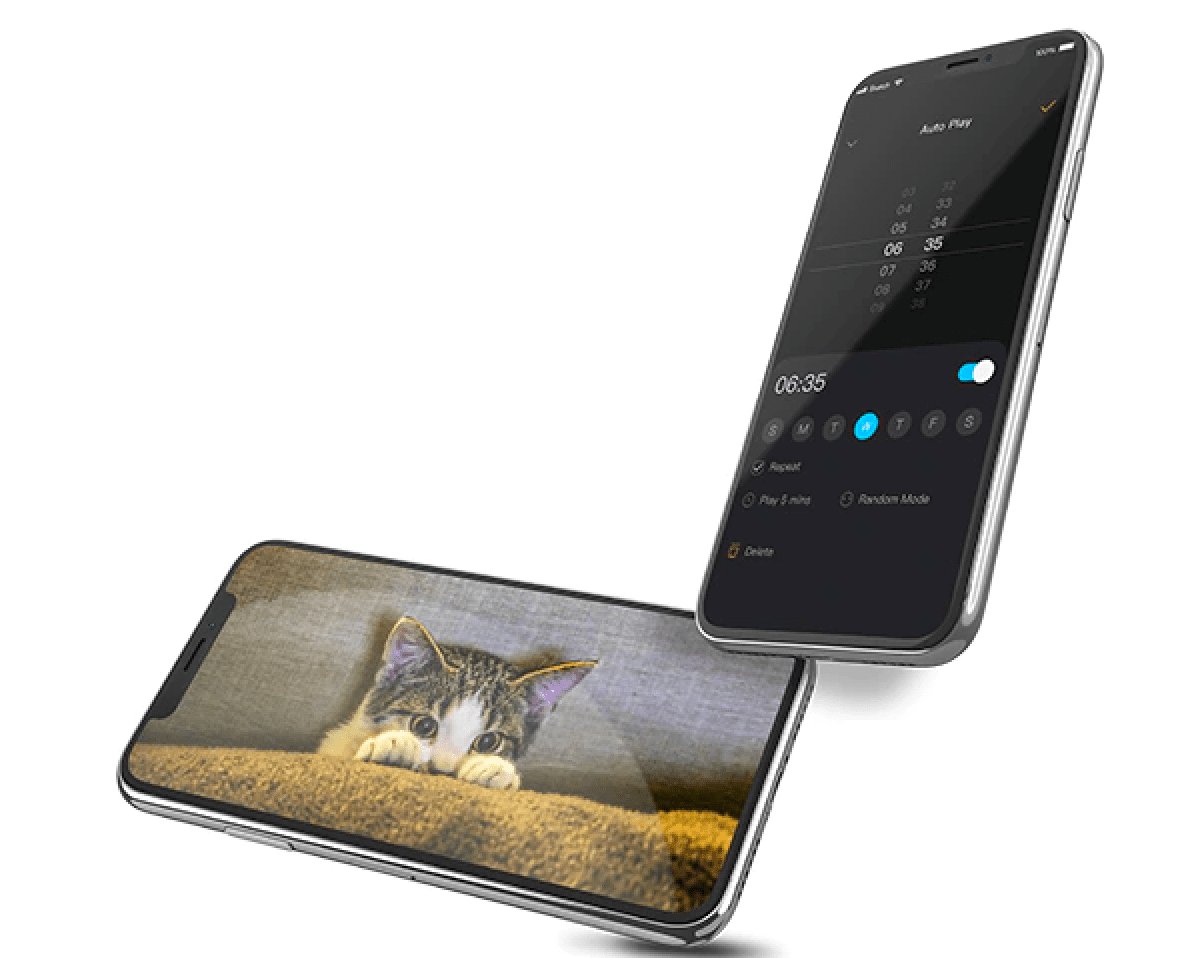 Schedule
Schedule play sessions throughout the week so your pet stays entertained even while you are away.

Update
Keep yourself updated with what your pet is doing at all times by checking in on them live on your mobile App any time you want.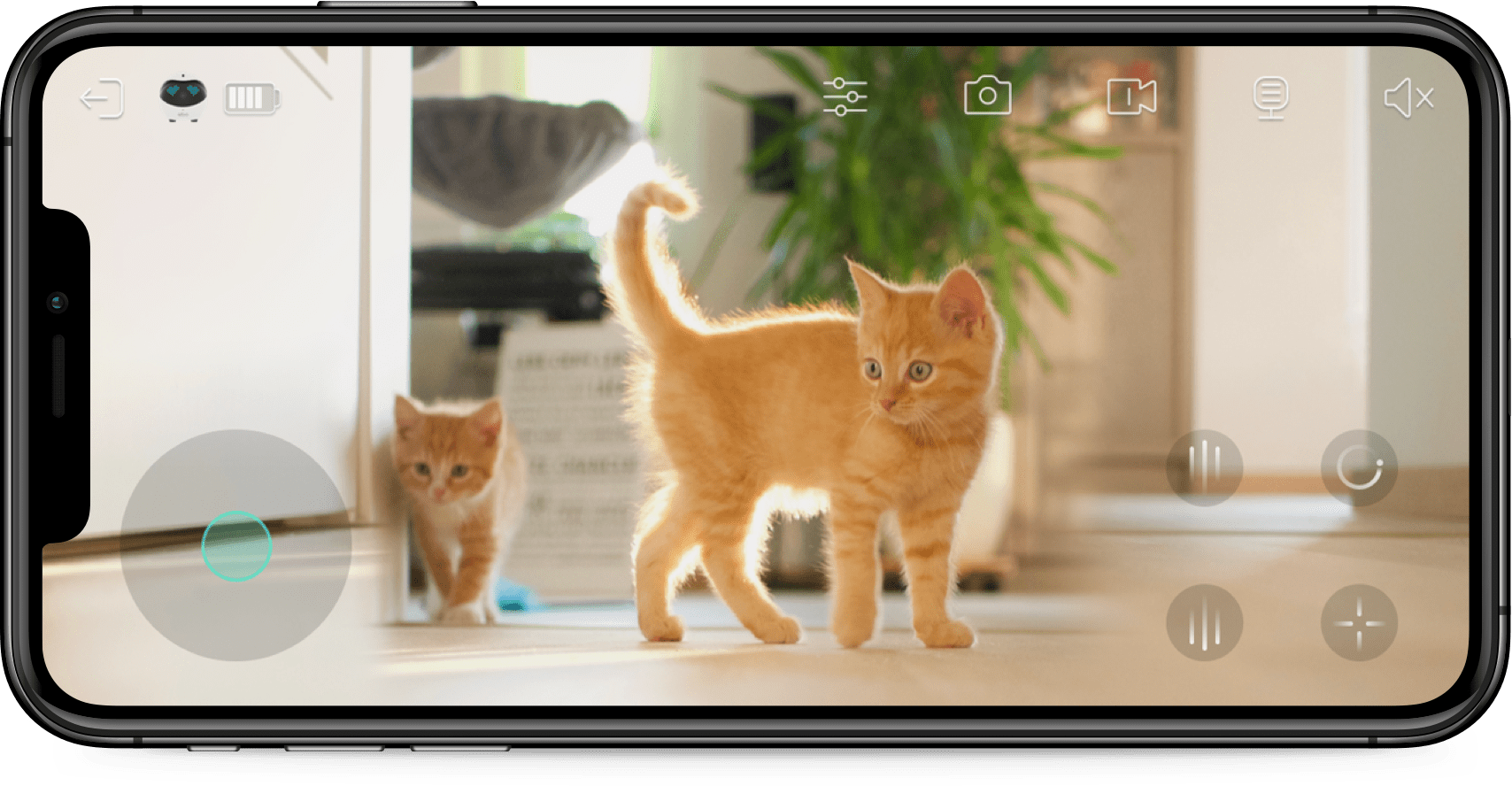 Photos
Take photos of playtime

Video Record
Record Play Date memories

MIC
Lets you hear and talk to your pet
Live HD Video
You can see every thing,never miss a moment
Join the Action
Play with your pet by using the built-in low intersity laser
Track your cat's health with Ebo's Smart Collar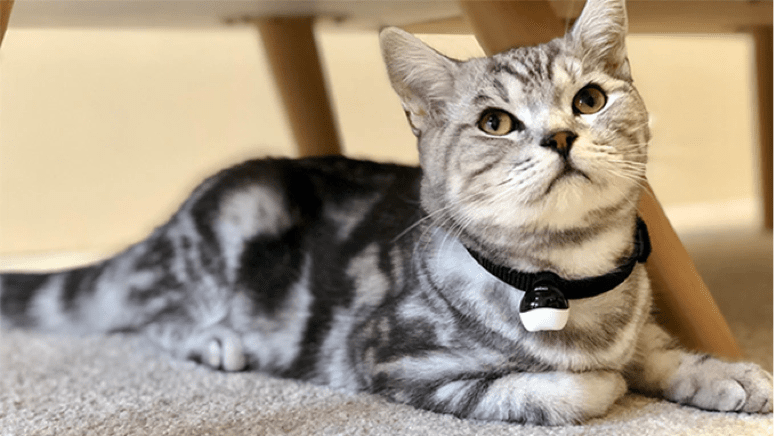 Ebo introduces a healthy dose of exercise into your pet's life, in which you can monitor at any time.
The smart collar is completely safe and non-toxic. In fact, it's one of the safest collars ever designed. If an unsafe amount of pressure is detected that puts your pet in danger, it will automatically loosen and come off.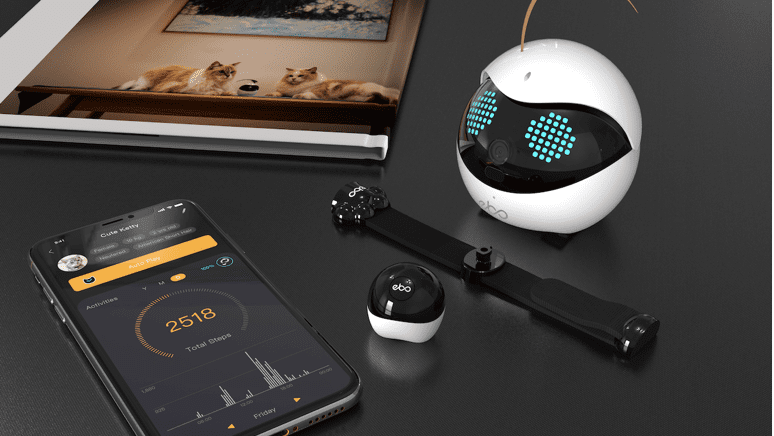 The EBO collar can synchronize with EBO to track your cat's activity level. You can monitor and record the steps using the Ebo app, along with the time of the day that your cat is active. The collar can be used for up to 30 days on a single charge and can be wirelessly charged using the same charging dock as for Ebo. In the event that the collar gets stuck, it has a safety mode in which the collar will be released automatically to prevent accidental choking.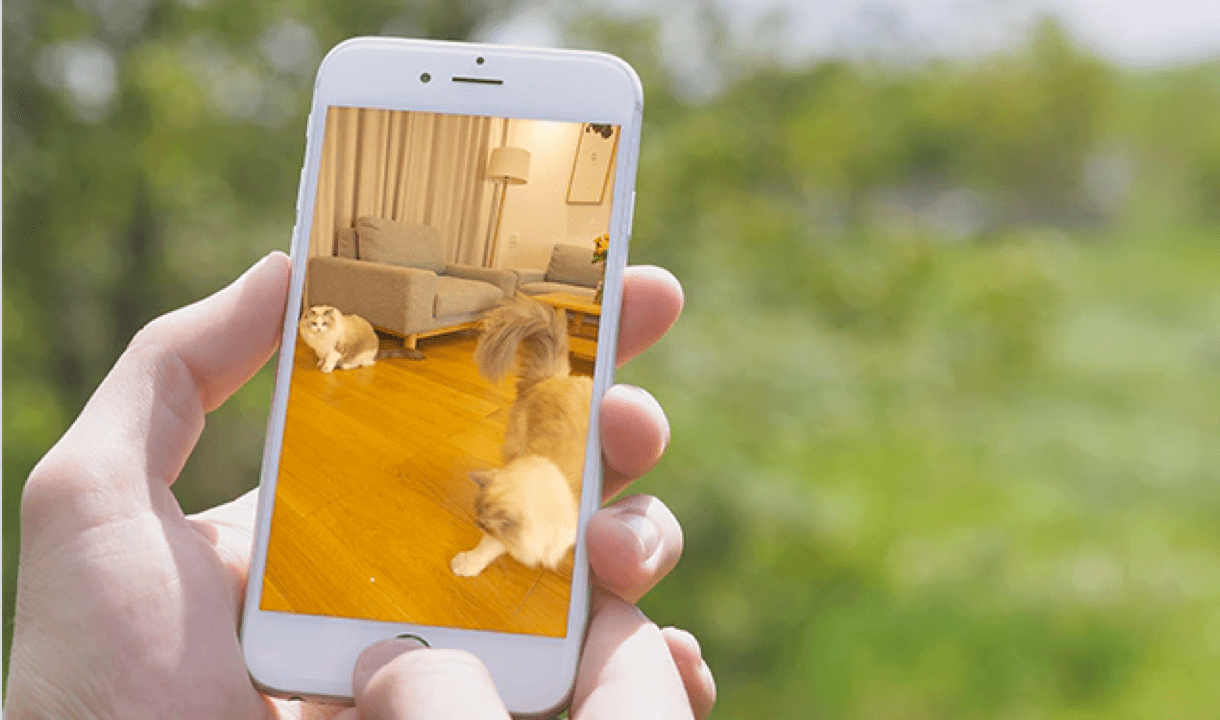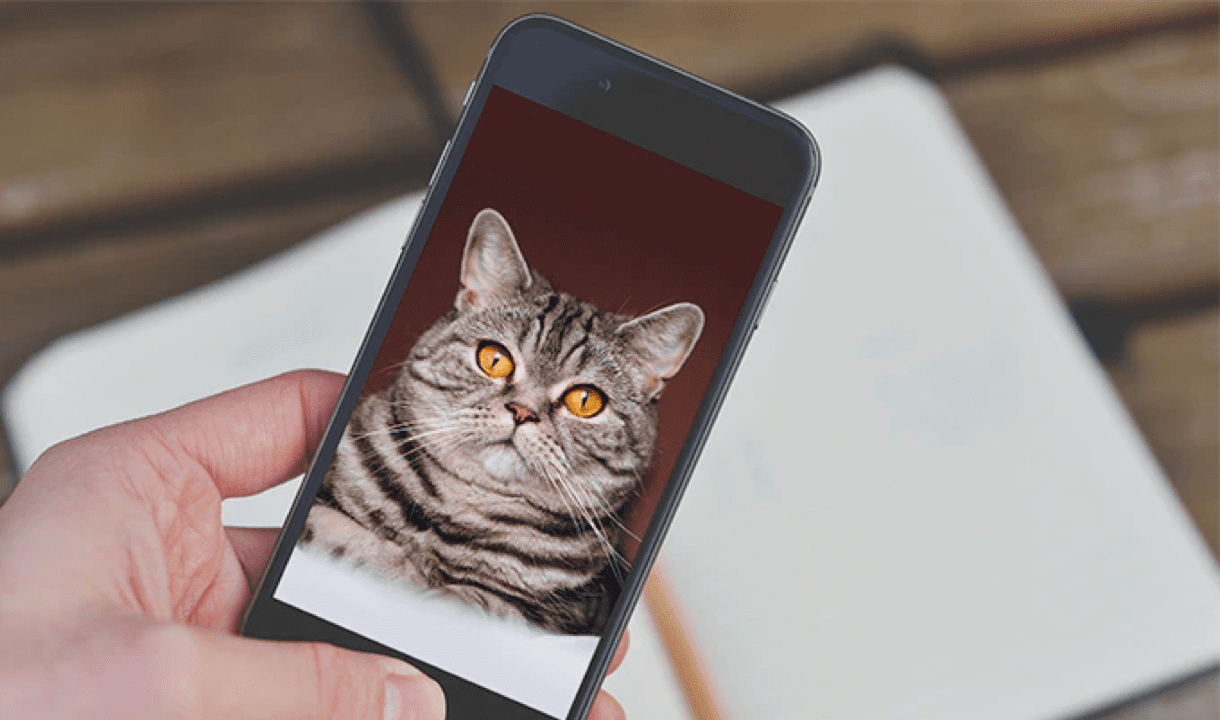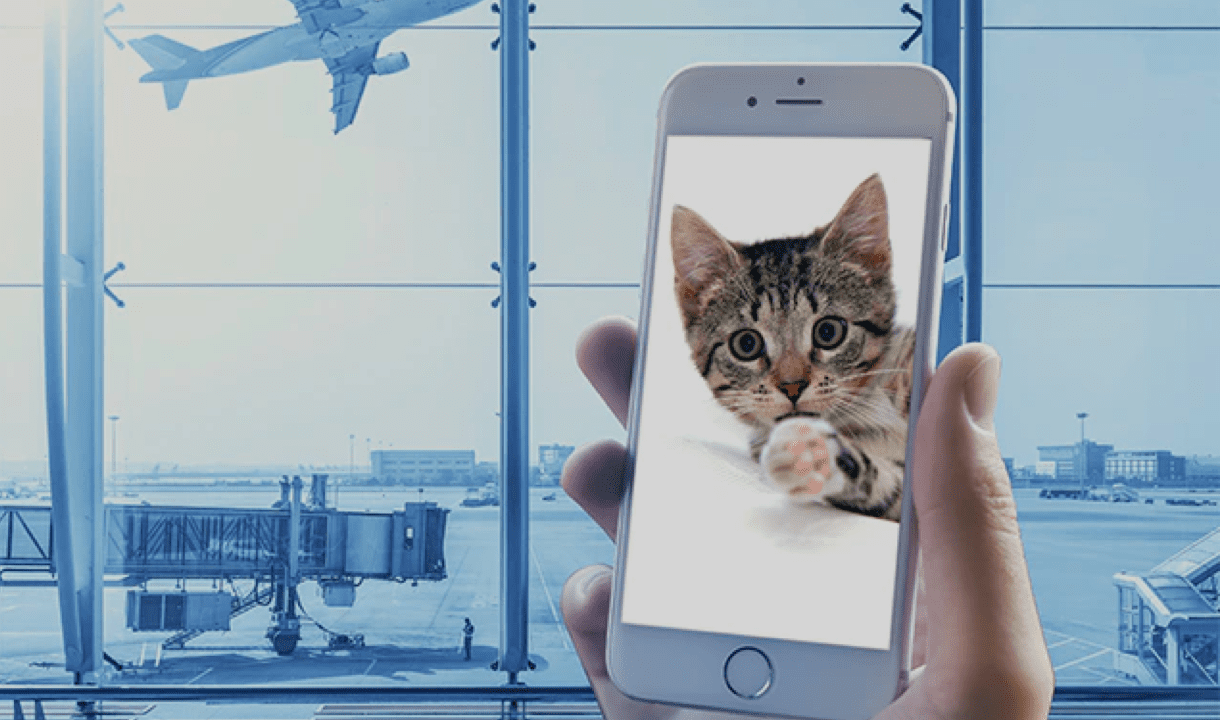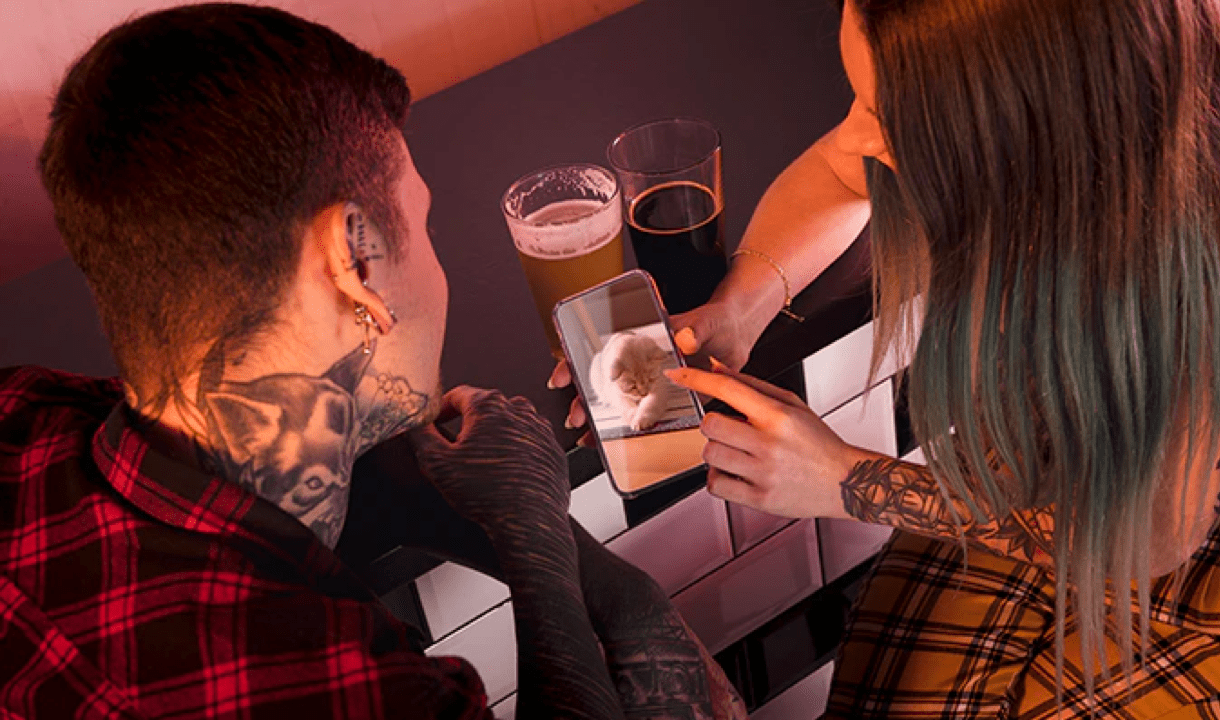 Specifications
Description
Parameter
Size
Dimension Weight
76mm*76mm*70mm 223g
Battery
Parameter Battery life Fullcharge
7.6V @ 1100mAh 120 mintues(automous mode) 2 hours
Wireless connection
WiFi 2.4G
max 20m away from router 802.11.b/g/n
Processor
CPU
ARM926 @ 800MHZ+CORTEX M4 @ 168MHZ
Velocity
Maximum
1.6m/s
Camera Specs
Video Photo
1080p @ 30fps 1920*1080
Storage
Main Storage
16GB/32GB
Transmission
Video
480p @ 30fps
Sensor
Gesture
TOF
Infrared Sensor
Starlight CMOS image sensor
6-axis IMU
50mm-1500m
X 6
SONY IMX323
Motor
Brushless Motor
X 2
Charging
Input Voltage
Input Current
10.6V-12.6V
600mA max
Charging Stand
Input
Output
12V @ 1A max
12V @ 600mA max(Ebo)
5V @ 20mA max(Collar)
Collar
Battery Sensor
3.7 @ 55mAh, wireless charging, upto 30 days on a single charge 6-axis accelerometer , gyroscope
Ebo Catpal Standard Classic Set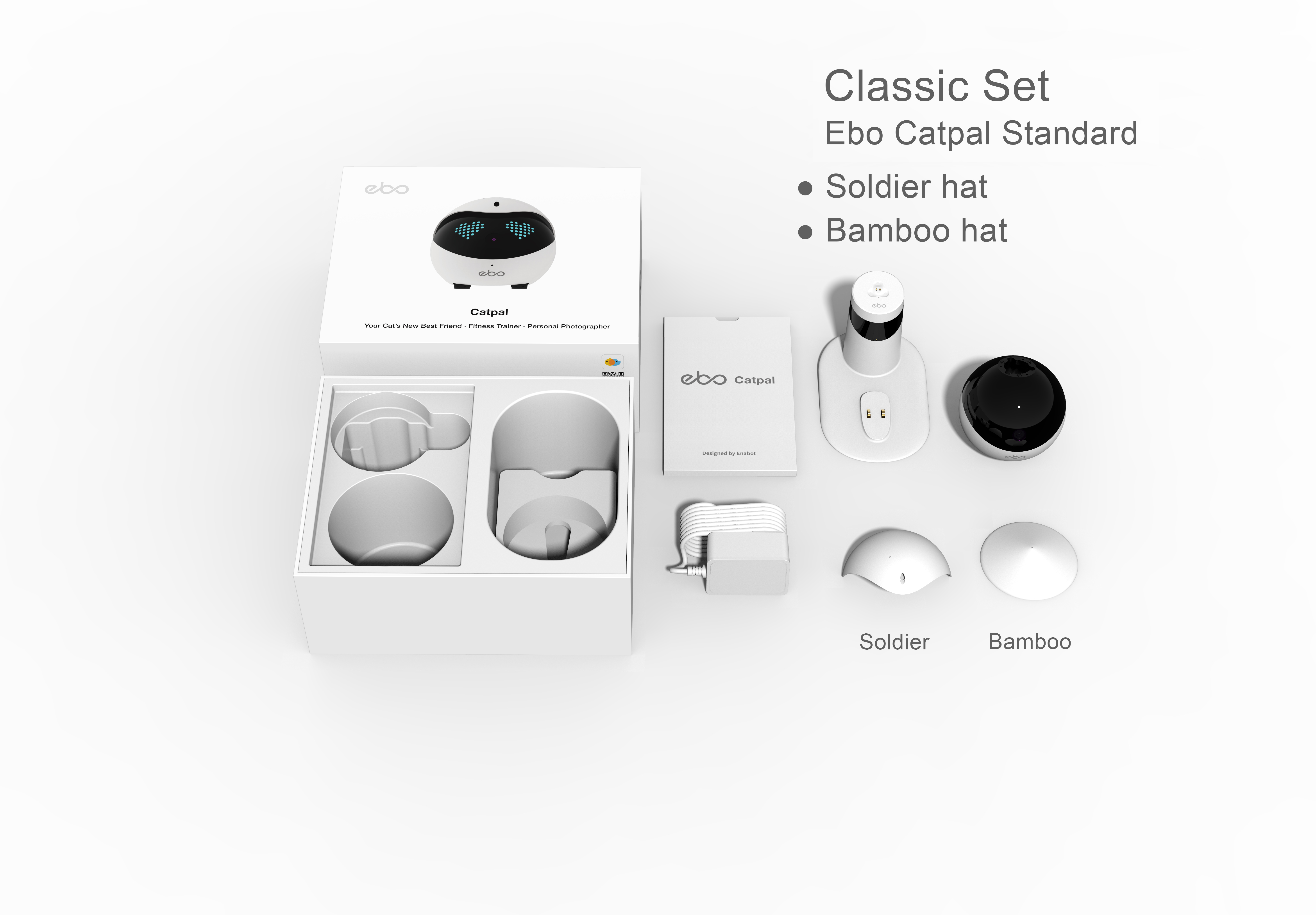 Ebo Catpal Standard Luxury Set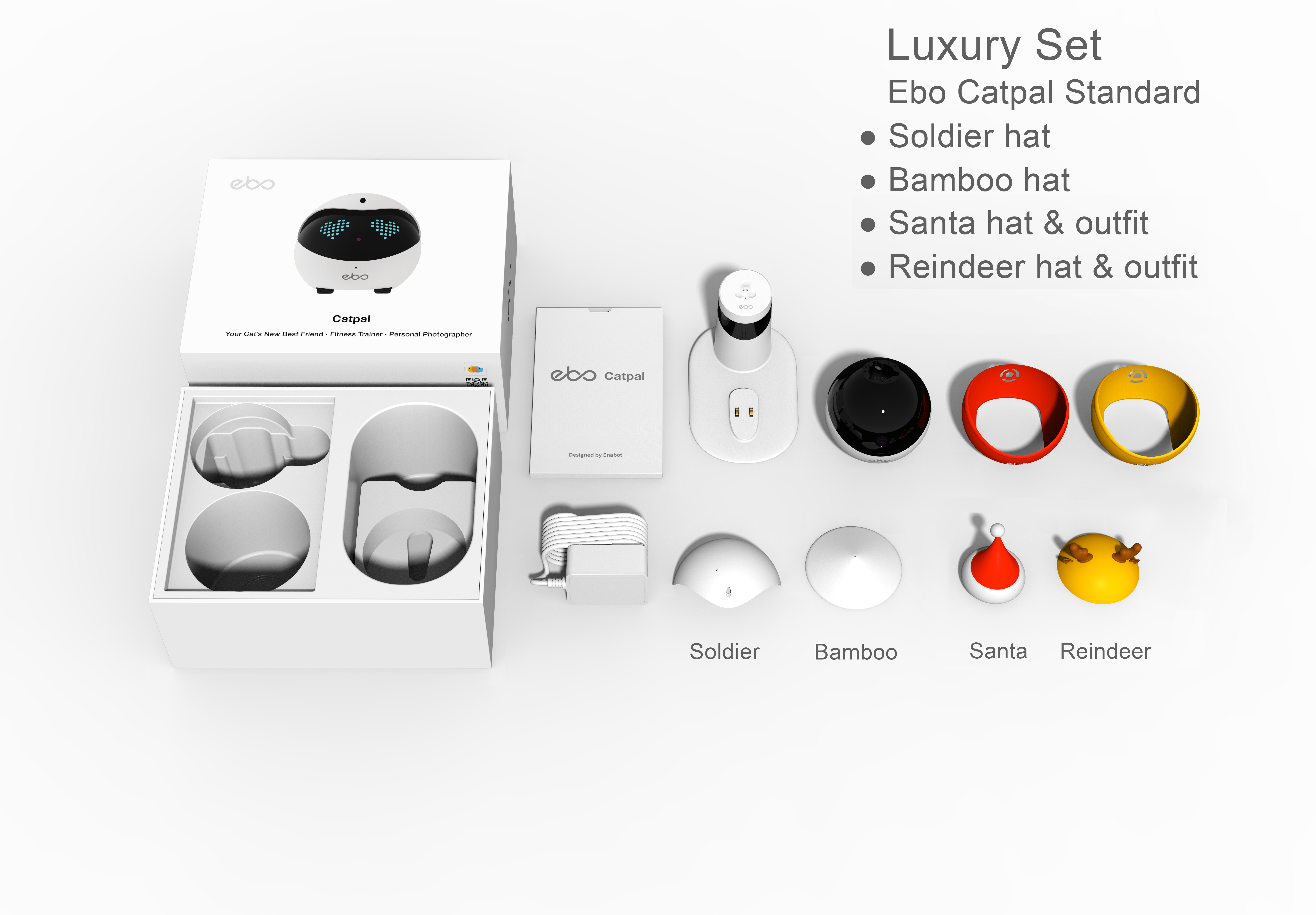 Ebo Catpal Standard Full Set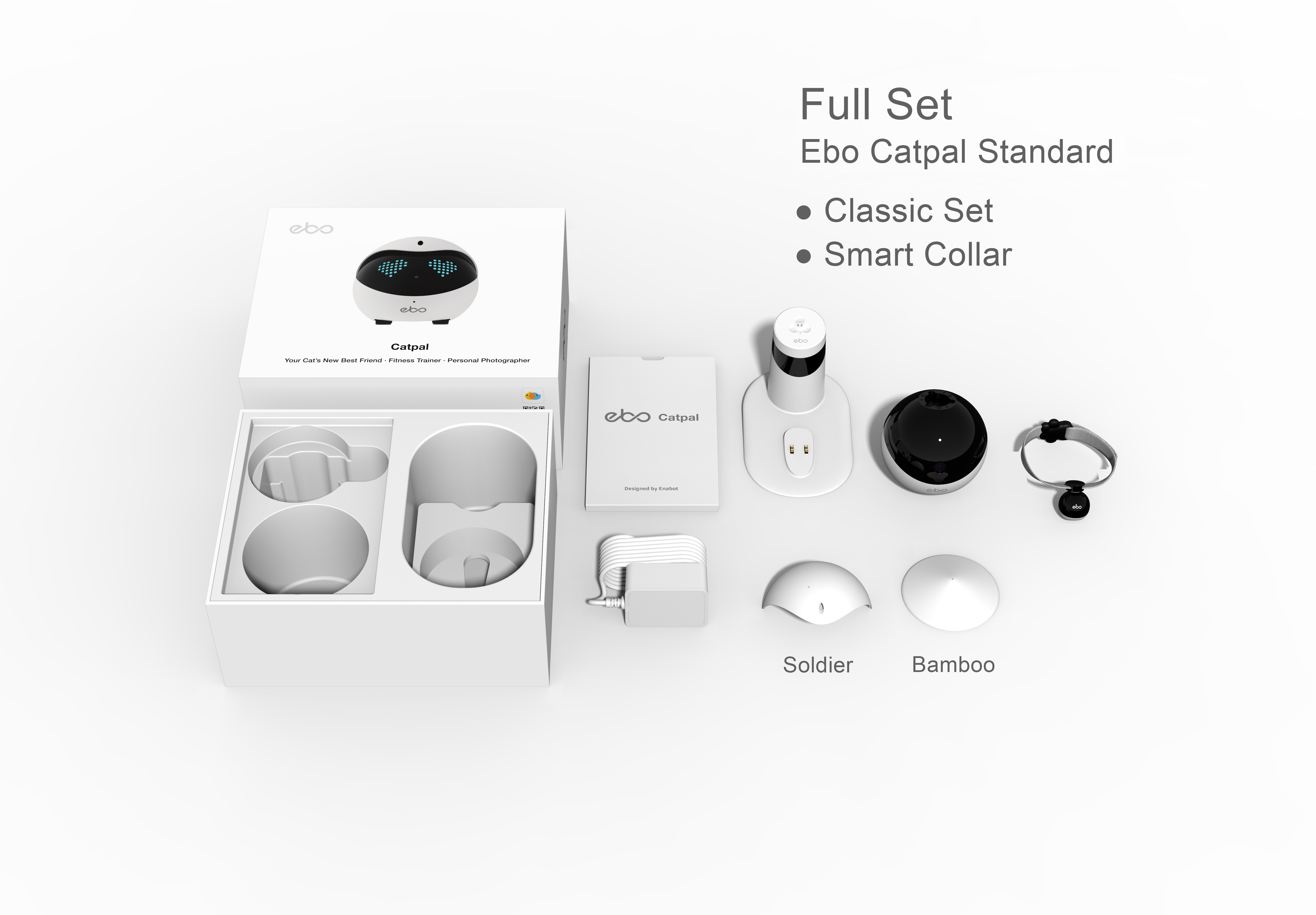 Ebo Catpal Pro Classic Set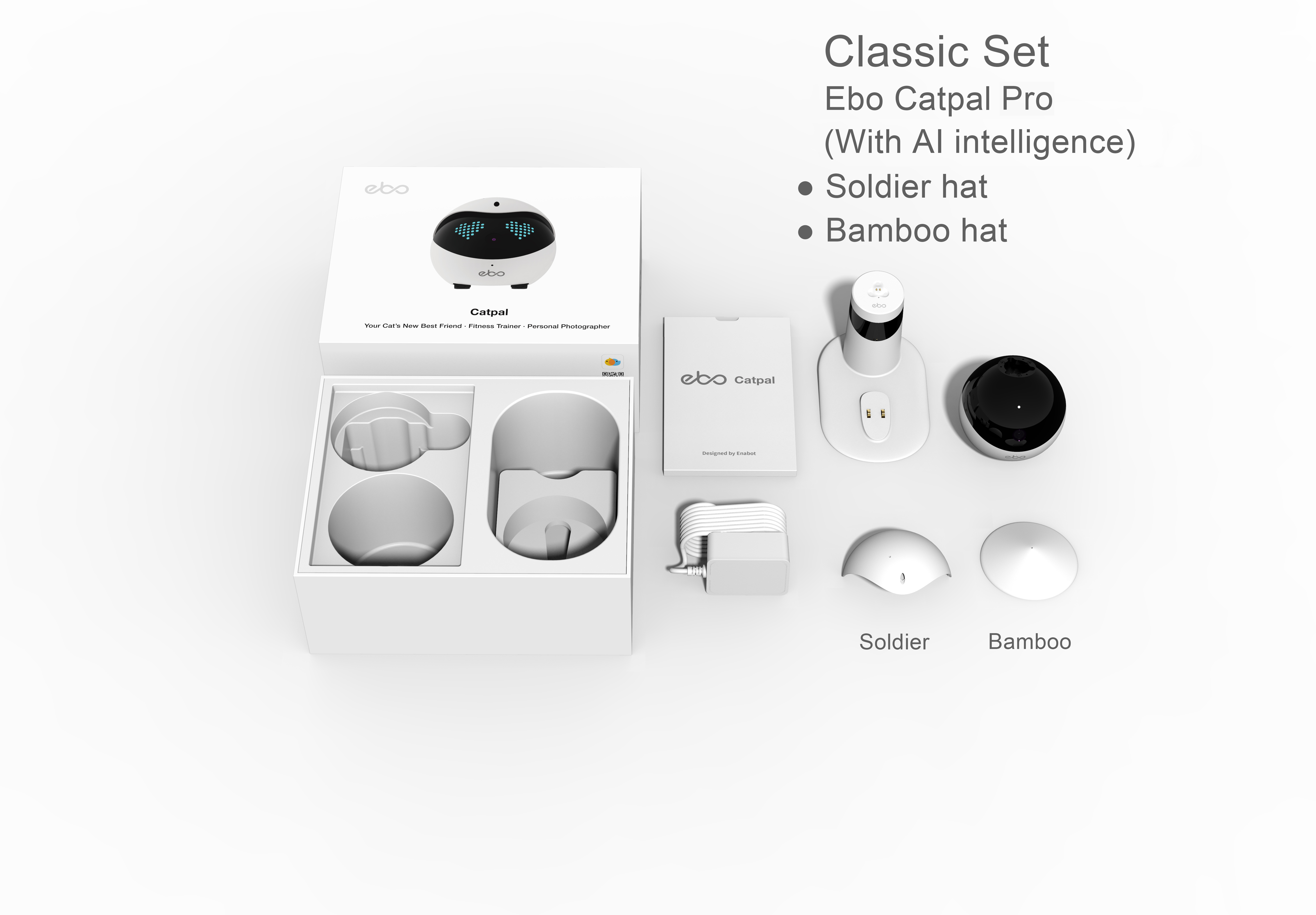 Ebo Catpal Pro Full Set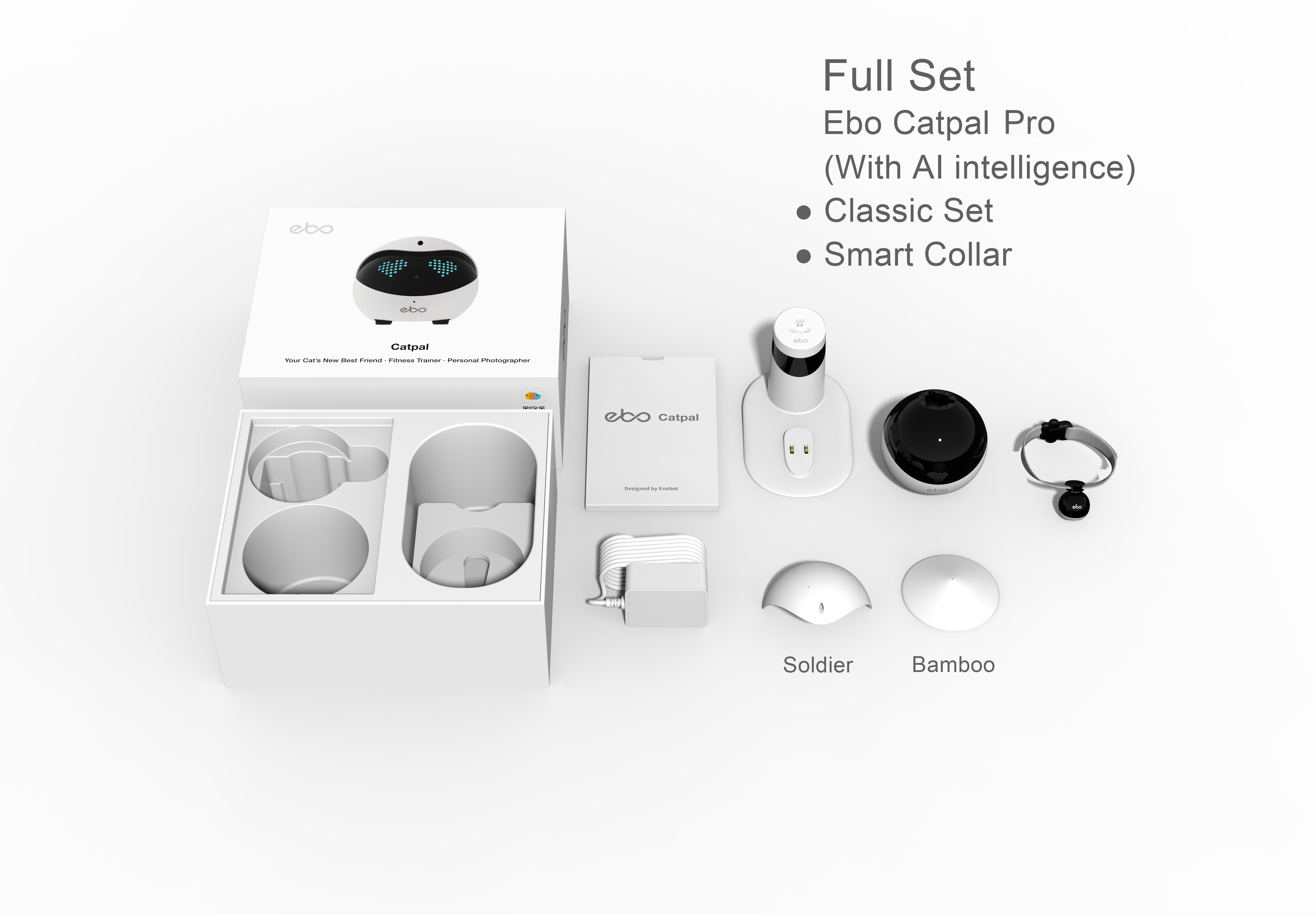 5 Sets to choose from
Ebo Catpal Standard
Ebo Catpal Pro
Storage
16G
32G
Facial Recognition
-
+
Auto-Capture&record
-
+
AI Techonology
-
+
Gift Accessories
Classic Set:
Soldier hat
Bamboo hat

Luxury Set:
Soldier hat
Bamboo hat
Santa hat & outfit
Reindeer hat & outfit

Full Set:
Classic Set + Smart Collar
Classic Set:
Soldier hat
Bamboo hat

-






Full Set:
Classic Set + Smart Collar
Compatibility with Collar
+
+
Android Support
+
+
IOS Support
+
+
Shipping
December 2019
July 2020